WOOD PLASTIC COMPOSITE
Energy Conservation, Environmental Protection, Recycling,Innovation, Development
Perfect Customer Service System
Environmental Protection Concept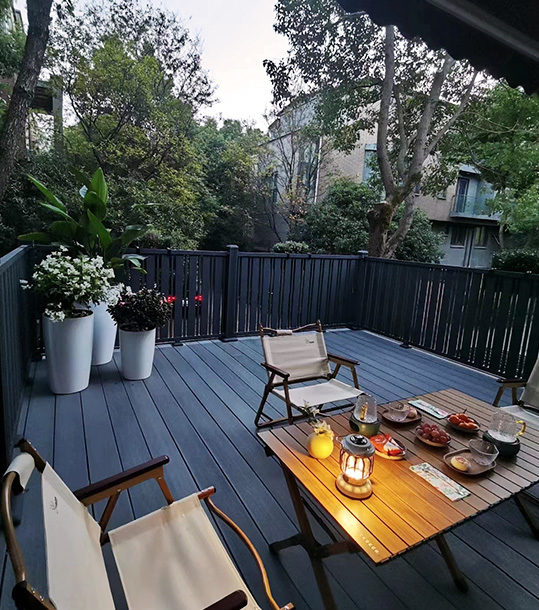 Focusing on wood plastic composite products
Zhejiang Chengcheng New Material Technology Co.,Ltd is a member of the China Woodplastic Council and the Zhejiang Technological Corporation. The company is located in the Haining, Zhejiang China, approach to Ningbo and Shanghai port, so making accessibility very convenient.
Learn More
New Products
Chengcheng WPC Solid Decking Series products looks like natural wood, colorful, long lifetime. Waterproof, anti-corrosion, anti-slip, no bending, no color fading. Easy to install and clean, maintenance free.
---
OUR STRENGTH
---
We adhere to the service concept of innovation, focus and sharing to support customers' business and pursue the ultimate.
2023-04
---
Wood-plastic flooring evokes your Mediterranean dream
In modern decoration, people are very fond of the Mediterranean style decoration, like that kind of simple and original atmosphere, today we have a small edition of plastic wood to tell you how to use our plastic wood to create a perfect Mediterranean style home.
---
2023-04
---
What are the key applications of wood-plastic flooring in today's social and economic development?
In the home decoration, we all pay attention to the use of wood flooring. Although wood floor raw materials are only a kind of architectural decoration materials, but covers a large area, the destruction of the landform can not be ignored, the quality of wood floor raw materials is particularly important. The flooring material chosen should have the greatest possible tensile strength.
---
Meet personalized requirement.
---
We offer high quality products and excellent service in order to create a perfect harmonious future!